Community Involvement
Helping to Improve the Lives of Children,
Brick by Brick
At The Brick, we know how meaningful it is to give back to the communities that support us. After all, we're part of your neighbourhood too.
Our customers and employees tell us there's nothing more important than the health and well-being of children. That's why we've partnered with two national charities that support kids across the country: Breakfast for Learning™ and Children's Miracle Network®.
Brick by Brick and hand-in hand, we believe the lives of Canadian children can be made better through nutritious breakfasts and exceptional medical care.
The Brick is committed to supporting Breakfast for Learning and Children's Miracle Network through fundraising, awareness, donation matching and employee participation. When it comes to the success of the next generation, we can all make a difference.
Our Partners
Breakfast for Learning

It's hard for a child to learn at school when all he or she can focus on is a growling stomach. Since 1992, Breakfast for Learning has been working with schools across Canada to help them start and operate programs that provide meals and snacks to at-risk children.
When kids go to class well-nourished, it improves their ability to learn and gives them the best chance of success in life.
With more than 500 million meals served to more than three million Canadian children since the program started, it's clear that breakfast is more than a meal - it's a foundation for the future.
Children's Miracle Network

Children's Miracle Network® raises funds and awareness for 170 member hospitals, 14 of which are in Canada. Donations stay local to fund critical treatments and healthcare services, pediatric medical equipment and research. Its various fundraising partners and programs support the nonprofit's mission to save and improve the lives of as many children as possible. Find out why children's hospitals need community support, identify your member hospital and learn how you can Put Your Money Where the Miracles Are, at http://www.childrensmiraclenetwork.ca and http://www.facebook.com/CMNHospitals.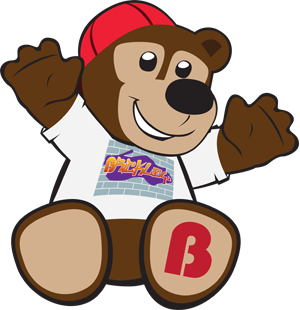 Meet Brickley
Brickley is a young Canadian bear who loves to play and learn.
He volunteers with Breakfast for Learning™ to help send kids to school with full tummies so they can pay attention in class.
If you see Brickley, he's working to raise funds for Breakfast for Learning so it can help children across Canada realize their full potential in life by ensuring they attend school well-nourished and ready to learn.
How to Help
You can purchase your very own Brickley Bear from The Brick, either at your local store or online.
All proceeds from sales of soft and cuddly Brickley bears go to Breakfast for Learning.
Helping a dream come true
The Brick and Make-A-Wish make a teen's wish a reality
Additional Support
Wounded Warriors

As a proudly Canadian company, The Brick stands behind the important work Wounded Warriors Canada does to support Canadian Armed Forces veterans and their families.
This non-profit organization is the nation's leading, wholly independent veterans' charity focusing on mental health and transition services. Its mandate, Honour the Fallen, Help the Living, is achieved through direct programming for veterans and endless care and compassion.
The Brick is honoured to support Wounded Warriors Canada through fundraising and awareness campaigns.
Community Initiatives
The Brick's most valuable asset is our employees. When our corporate, distribution and in-store staff want to support their communities, we want to support them.
That's why we give financial, volunteer and in-kind support to an array of worthwhile associations, events and fundraisers across Canada. Since 1971, The Brick has donated millions of dollars with a focus on helping to improve the lives of Canadian children, Brick by Brick.
The Brick Invitational Super Novice Hockey Tournament

Every summer since 1990, North America's most promising young hockey players face off at West Edmonton Mall during The Brick Invitational Super Novice Hockey Tournament.
Envisioned by Bill Comrie, avid hockey supporter and founder of The Brick, this world-class tournament focuses on challenging players in the 10-year-old age range, helping them improve their skills and giving them lifelong memories of fun and friendship.
Some of the National Hockey League's® (NHL) most popular players have hit the ice as youth at The Brick Invitational, including: Mike Brown, Jordan Eberle, Colton Gillies, Luke Schenn, Brent Seabrook, Steven Stamkos, P.K. Subban and Jonathan Toews.