Maytag 4.5 Cu. Ft. Front-Load Washer and 7.4 Cu. Ft. Gas Dryer
Delivery and pick-up details
Exact delivery costs and selection of delivery/pick-up date is available in checkout.
Delivery Includes:
Delivery and placement in your home. Learn more about our delivery process.
Basic assembly of your item (except items marked "Customer Assembly Required").
Disposal of packing material for most items.
Pick-up Includes:
Free shipping to almost any store of your choice (selected in checkout).
Specialty Installation and Assembly:
We offer professionally licensed installation and assembly services at competitive prices in many communities in Canada. Call 1-888-933-8786 to check if these services are available in your area.
---
Item Code:
MA3500LG
Model:
MHW3500FW/MGD3500W
This package includes:
1 x Maytag 8.5 Cu. Ft. Gas Dryer – MGD3500FW $1,199.97
1 x Maytag 5.2 Cu. Ft. Front-Load Washer – MHW3500FW $1,199.97

Items available to be purchased separately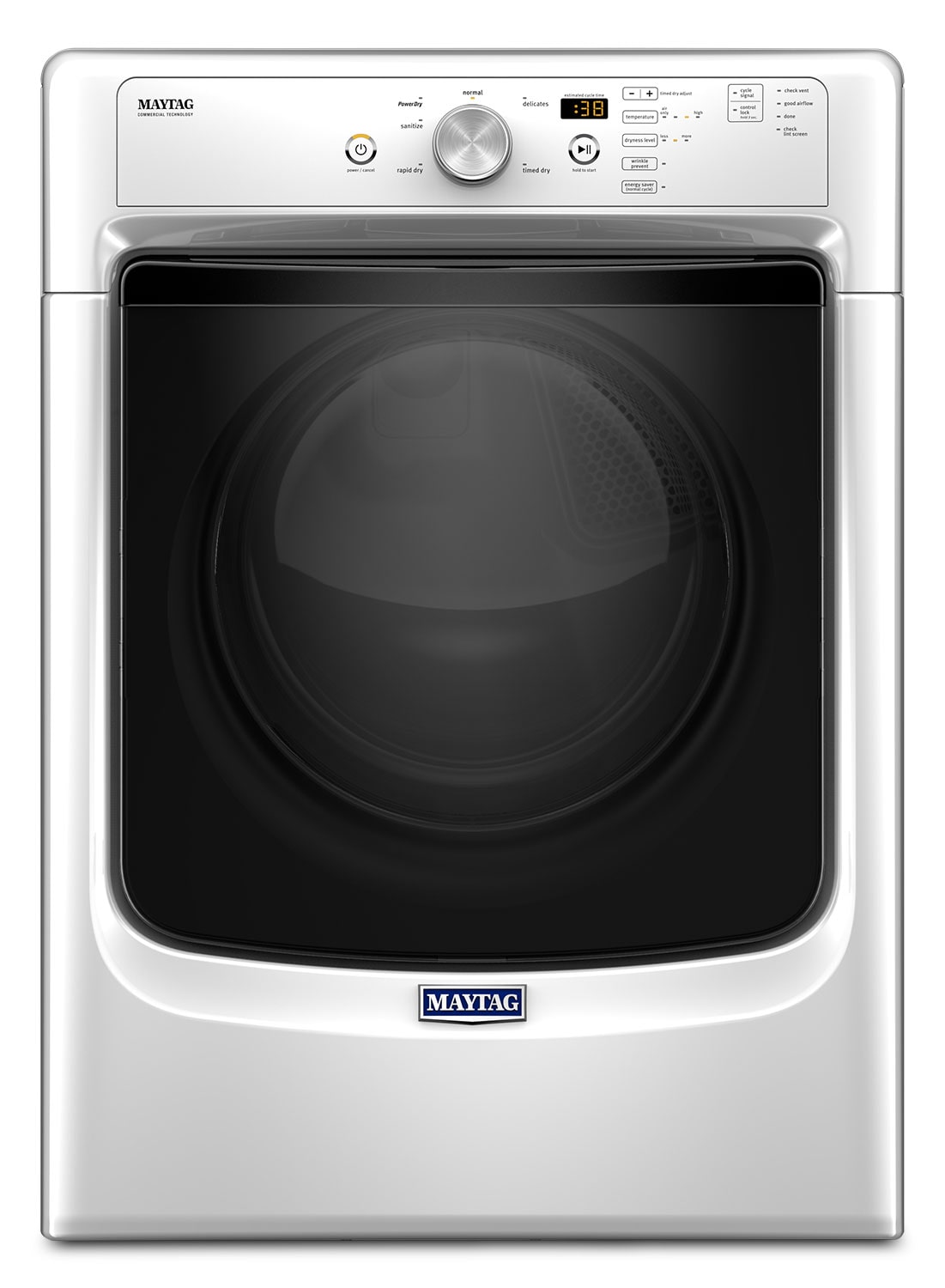 Item Code:
MGD3500W
Dimensions:
Width:
27''
Height:
39''
Depth:
31''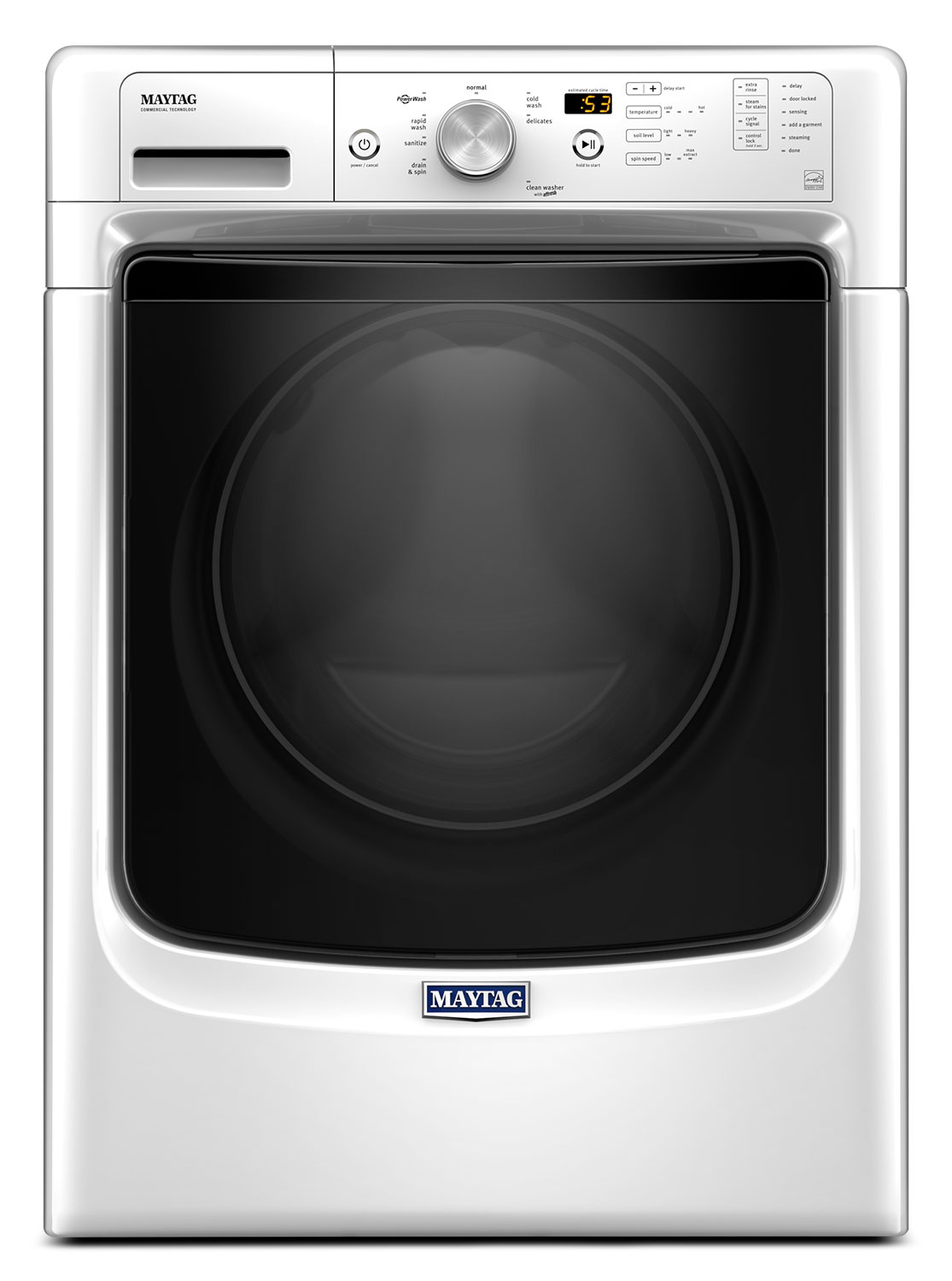 Item Code:
MHW3500W
Dimensions:
Width:
27''
Height:
39.75''
Depth:
32.93''
Other items and packages in this collection
Product Overview
Love laundry again with this Maytag front-load washer and gas dryer. PowerWash™ takes a load off your back by tackling tough stains with PowerSpray™ technology, and you can add steam to boost any cycle's cleaning power. Let PowerDry™ take charge and dry even the largest loads of laundry. Sanitize cycles on both machines give you plenty of options for cleaning hard-to-wash items. Plus the rapid wash and dry cycles quickly deliver clean clothes when you need them most.
Key Features:
PowerWash™ System
Steam for Stains Option
Sanitize Cycle
Rapid Wash Cycle
PowerWash System
Using PowerSpray™ technology, the PowerWash cycle helps power out tough stains.
Steam for Stains Option
Tackle stains using the additional soak time, optimal water temperature and boost of steam from this option, which can be added to select cycles.
Sanitize Cycle
The sanitize cycle removes 99.9% of household bacteria with extra-hot water temperature, delivering thorough cleaning and peace of mind.
Rapid Wash Cycle
The rapid wash cycle cleans small loads quickly with high speed tumbling and extra-high spin speed for faster drying.
Key Features:
PowerDry™ System
Wrinkle Prevent Option
Sanitize Cycle
Rapid Dry Cycle
PowerDry System
Even the largest loads won't stand a chance with the optimized heat and even drying of the PowerDry system. The PowerDry cycle gets the job done with powerful heat and airflow to dry faster, while advanced moisture sensing and an extra interior fin help get your big loads evenly dried.
Steam for Stains Option
The wrinkle prevent option helps keep wrinkles from forming without using heat, as the dryer continues to tumble your clothes after the cycle has ended.
Sanitize Cycle
The sanitize cycle uses extra-hot drying temperatures to remove up to 99.9% of three common household bacteria from items you don't want to put through the washer.
Rapid Wash Cycle
Dry a small load fast with the rapid dry cycle.
Dimensions:
Washer: 27" W x 39.75" H x 32.93" D
Dryer: 27" W x 39" H x 31" D