Maytag 6.1 Cu. Ft. Top-Load Steam Washer and 8.8 Cu. Ft. Electric Steam Dryer – White
Delivery and pick-up details
Exact delivery costs and selection of delivery/pick-up date is available in checkout.
Delivery Includes:
Delivery and placement in your home. Learn more about our delivery process.
Basic assembly of your item (except items marked "Customer Assembly Required").
Disposal of packing material for most items.
Pick-up Includes:
Free shipping to almost any store of your choice (selected in checkout).
Specialty Installation and Assembly:
We offer professionally licensed installation and assembly services at competitive prices in many communities in Canada. Call 1-888-933-8786 to check if these services are available in your area.
---
Item Code:
MATL855W
Model:
MVWB855W/YMEDB85W PKG
This package includes:
1 x Maytag 8.8 Cu. Ft. Top-Load Electric Dryer with Steam Refresh – White $1,419.97
1 x Maytag 6.1 Cu. Ft. Top-Load Steam Washer – White $1,529.97

Items available to be purchased separately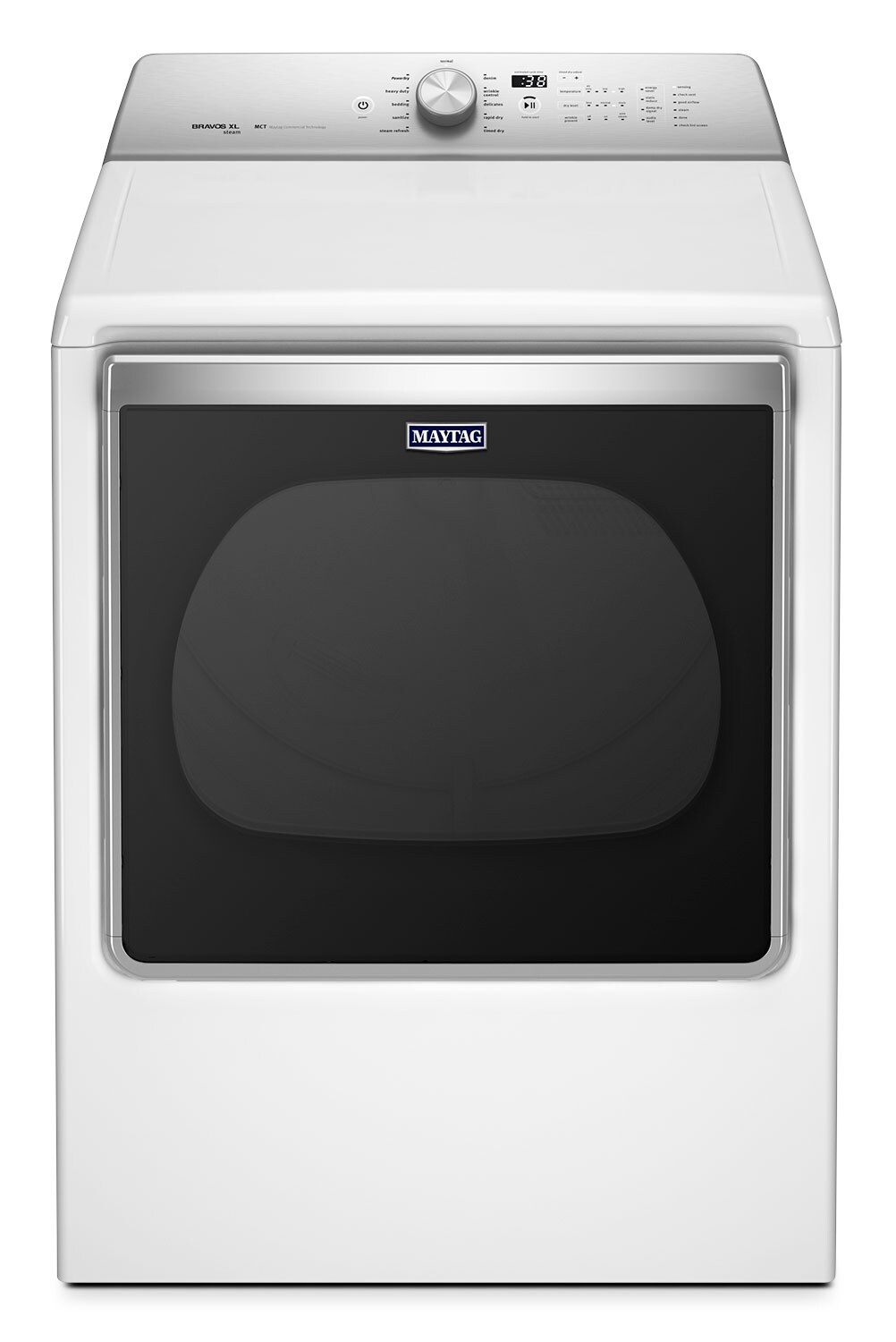 Item Code:
YMEDB85W
Dimensions:
Width:
29''
Height:
43.37''
Depth:
27.75''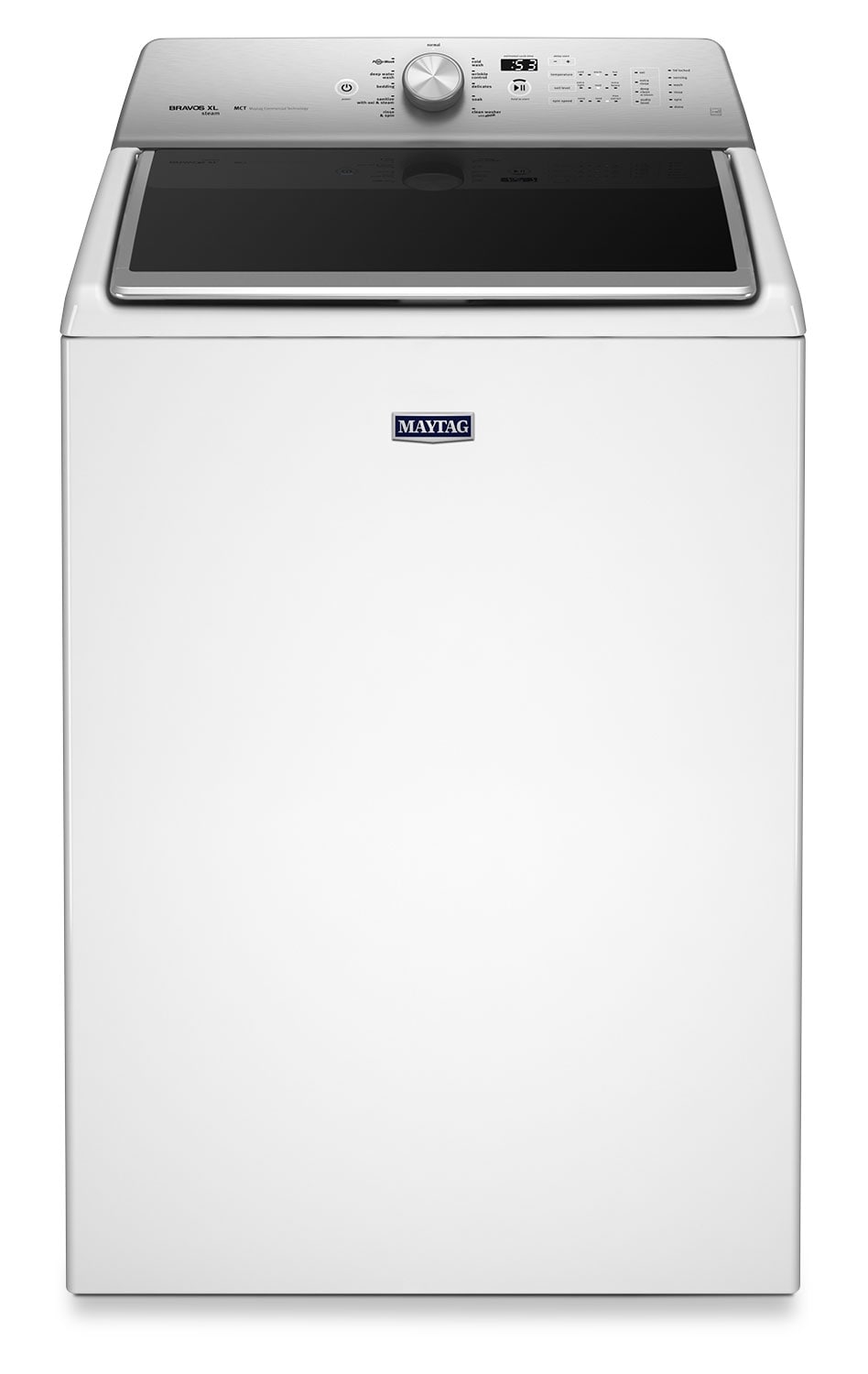 Item Code:
MVWB855W
Dimensions:
Width:
27.5''
Height:
42.25''
Depth:
28''
Other items and packages in this collection
Product Overview
Let your clothes speak for you once they go through this Maytag top-load steam washer and electric steam dryer set. Utilize the washer's PowerWash® system and PowerSpray feature to scrub every last stain and sweat mark. Steam cycles in both the washing machine and dryer ensure everything is ready to wear. By monitoring the dampness of your clothes, the dryer's Advanced Moisture Sensor can adapt and adjust the cycle for perfectly dry laundry. Plus, you won't need to spend all day doing laundry – both the washer and dryer come with extra-large capacities to take care of business.
Washer Key Features:
Extra-Large Capacity
Steam-Enhanced Cycles
PowerWash System
PowerSpray
Sanitize Cycle with Oxi and Steam
Extra-Large Capacity
Blankets, towels, coats and jeans this Maytag washer can handle whatever you throw inside, thanks to the 6.1 cubic foot wash drum.
Steam-Enhanced Cycles
Steam enhances the cleaning power of your washer for stain-fighting action you can count on.
PowerWash System
Driven by the PowerWash system and featuring the extra cleaning action of the PowerWash cycle for stubborn stains, you will enjoy the best possible laundry clean.
PowerSpray
PowerSpray enhances cleaning by recirculating water and detergent from the bottom of the load to the top, so clothes can get a highly concentrated treatment for difficult stains.
Sanitize Cycle with Oxi and Steam
The Sanitize cycle with Oxi and Steam removes 99.9% of household bacteria. Increased wash temperatures and oxygenated additives work together to attack every day tough stains.
Dryer Key Features:
Extra-Large Capacity
Steam Refresh Cycle
Advanced Moisture Sensor
Maytag Commercial Technology
Sanitize Cycle
Rapid Dry Cycle
Steam-Enhanced Cycles
Extra-Large Capacity
This 8.8 cubic foot capacity dryer is big enough to dry 21 towels in a single load.
Steam Refresh Cycle
The steam refresh cycle uses a fine mist in the heated dryer drum to refresh clothes, and keep your shirts and slacks looking snappy.
Advanced Moisture Sensor
Advanced Moisture Sensors monitor the moisture and air temperatures inside your dryer to get your laundry perfect every time.
Maytag Commercial Technology
This dryer comes standard with high-performance, commercial-grade parts like a high-torque motor, five-rib dryer belt and premium rollers.
Sanitize Cycle
The sanitize cycle removes up to 99.9% of common household bacteria.
Rapid Dry Cycle
Get your must-have outfit dry in a jiffy with the Rapid Dry cycle available in this top-load dryer.
Steam-Enhanced Cycles
Enjoy the inclusion of steam-enhanced cycles to help prevent wrinkles, refresh clothes and reduce static.
Dimensions
Washer: 27.5" W x 42.25" H x 28" D
Dryer: 29" W x 43.38" H x 27.75" D