Whirlpool® Cabrio® 5.5 Cu. Ft. Top-Load Washer and 7.0 Cu. Ft. Gas Dryer - White
Delivery and pick-up details
Exact delivery costs and selection of delivery/pick-up date is available in checkout.
Delivery Includes:
Delivery and placement in your home. Learn more about our delivery process.
Basic assembly of your item (except items marked "Customer Assembly Required").
Disposal of packing material for most items.
Pick-up Includes:
Free shipping to almost any store of your choice (selected in checkout).
Specialty Installation and Assembly:
We offer professionally licensed installation and assembly services at competitive prices in many communities in Canada. Call 1-888-933-8786 to check if these services are available in your area.
---
Item Code:
WHIRTL5G
Model:
WTW7000D/WGD7300D PKG
This package includes:
1 x Whirlpool® 5.5 Cu. Ft. Cabrio® High-Efficiency Top-Load Washer – White $1,099.97
1 x Whirlpool® Cabrio® 7.0 Cu. Ft. Gas Dryer - White $1,199.97

Items available to be purchased separately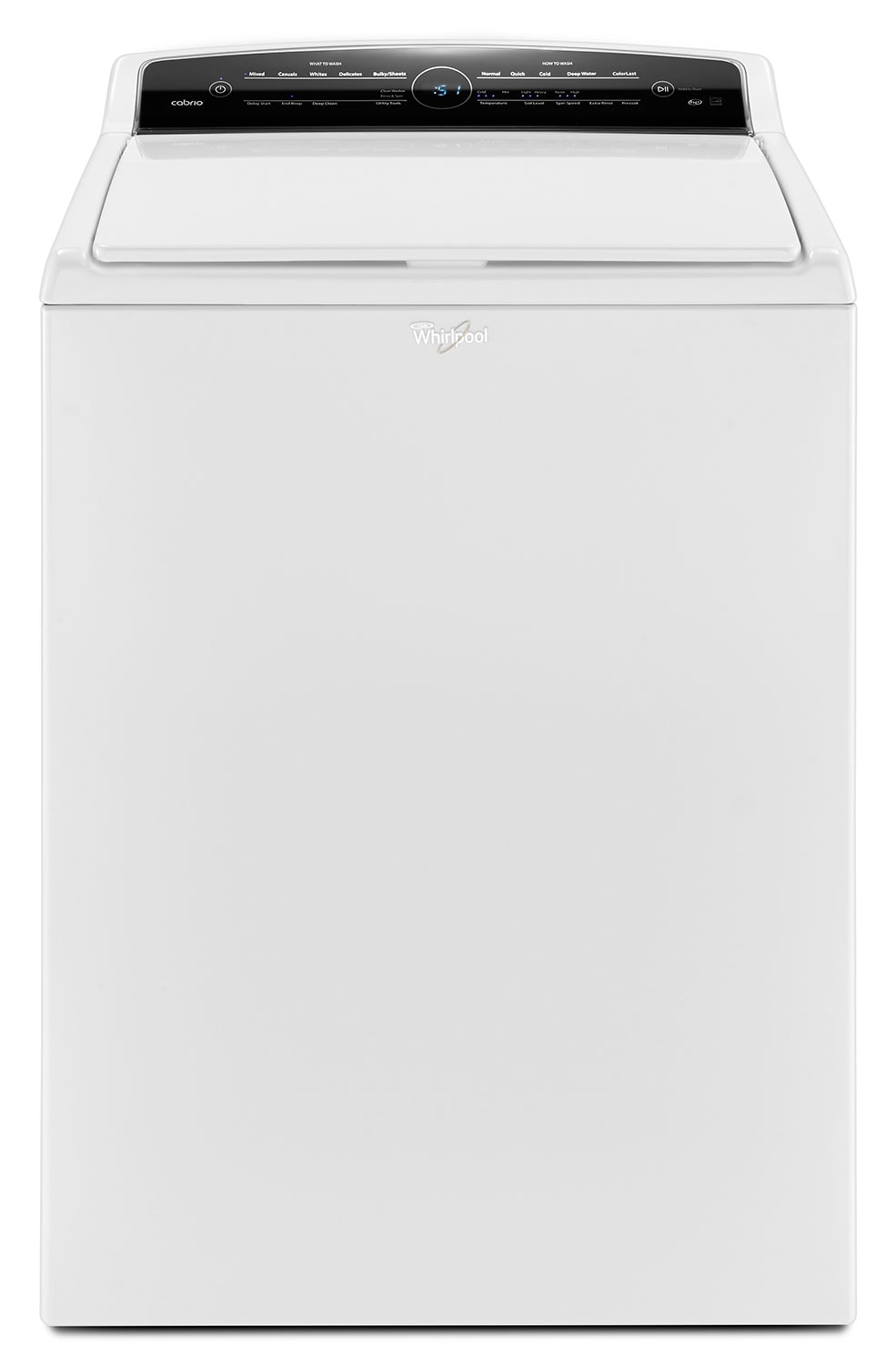 Item Code:
WTW7000D
Dimensions:
Width:
27.5''
Height:
42.25''
Depth:
28''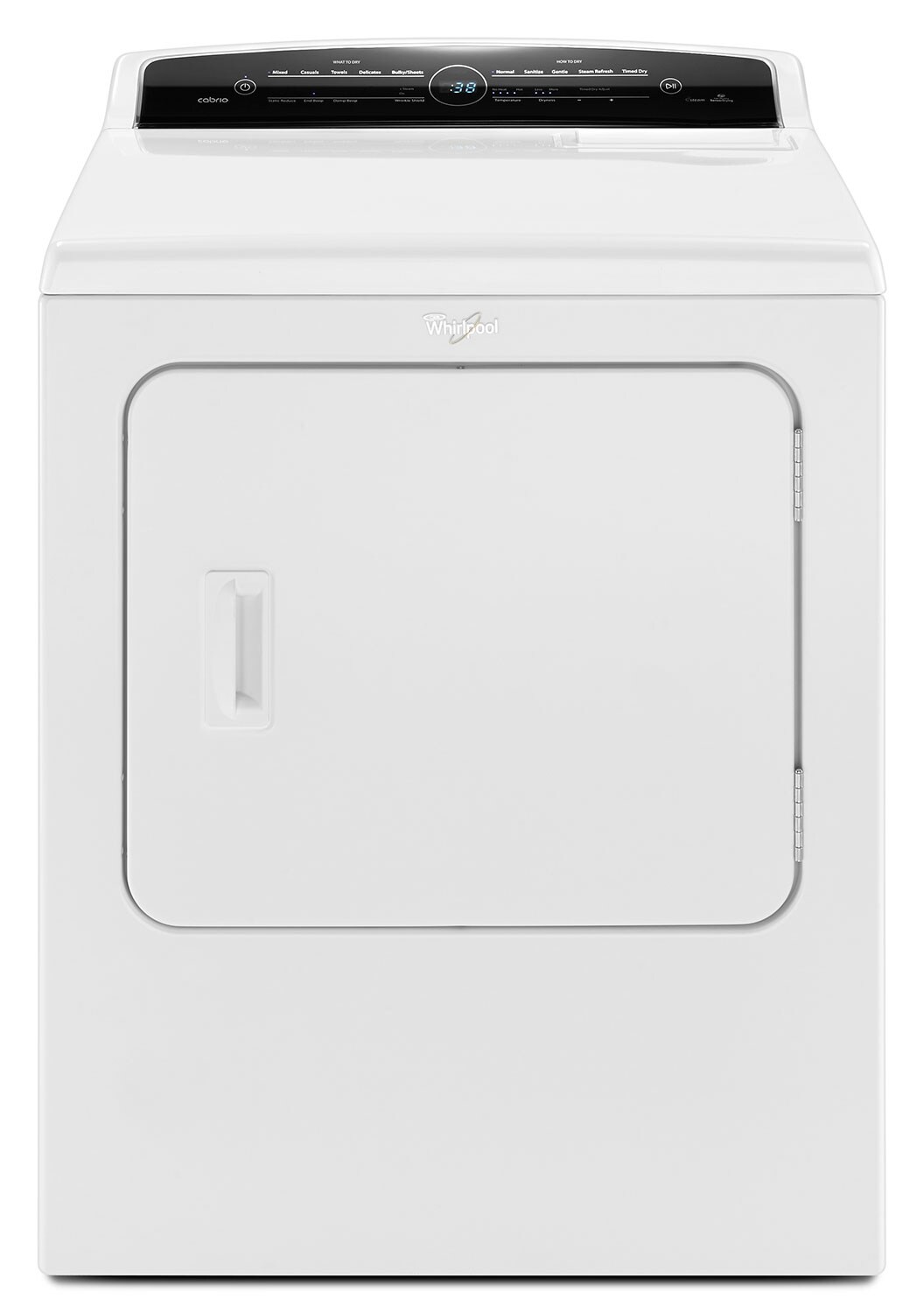 Item Code:
WGD7300D
Dimensions:
Width:
29''
Height:
43.37''
Depth:
27.75''
Other items and packages in this collection
Product Overview
Keep your clothes looking their best with this large-capacity washer and dryer pair from Whirlpool. The washer's adaptive wash actions automatically adjust to each load of laundry, helping ensure a powerful yet gentle clean. The dryer's advanced moisture-sensing technology stops the cycle once items are dry, preventing potential damage caused by over-drying. Plus, the washer's ENERGY STAR® qualification helps reduce energy consumption, lowering your utility bills.
Washer Key Features:
Deep Water Wash Cycle
ColorLast™ Option
Presoak Option
Adaptive Wash Technology
Smooth Wave Stainless Steel Wash Basket
ENERGY STAR® Qualified
Deep Water Wash Cycle
Bravely tackle your most difficult stains with this washer's deep water wash cycle. It helps break down and lift away heavy soils with ease.
ColorLast Option
Give your most vibrant colours a boost with Whirlpool's ColorLast option, which uses a precise combination of wash action, temperature and time to keep clothes fresh, not faded.
Presoak Option
Thanks to this washer's presoak option you no longer have to pretreat heavily soiled laundry. By dding extra time to the normal wash cycle, this option helps lift away stubborn stains.
Adaptive Wash Technology
Expect a gentler, better cleaning performance with this washer. Adaptive wash technology automatically senses the size of your wash load and adjusts the water usage for optimal cleaning.
Smooth Wave Stainless Steel Wash Basket
Keep your garments looking as great as the day you bought them. The smooth wave stainless steel wash basket guides clothes through the wash cycle to help prevent fabrics from fraying and snagging
Energy Star Qualified
Energy Star qualified appliances exceed government standards by over 20%, which helps conserve natural resources and save on your utility bills.
Dryer Key Features:
Advanced Moisture-Sensing Technology
Sanitize Cycle
Steam Refresh Cycle
Large Capacity
Static Reduce Option
Wrinkle Shield™ Plus Option with Steam
Advanced Moisture-Sensing Technology
This dryer includes sensors that automatically end the cycle when all items are perfectly dry, helping prevent damage caused by over-drying.
Sanitize Cycle
This dryer eliminates an impressive 99.9% of common household bacteria with its sanitize cycle.
Steam Refresh Cycle
Relax wrinkles and reduce unwanted odours from your garments with this dryer's steam refresh cycle. It uses water and heat to release wrinkles and odours, making it ideal for those items you'd rather not—or have no time to—rewash.
Large Capacity
With a capacity of 7.0 cu. ft., this dryer easily handles your largest loads.
Static Reduce Option
By combining a spray of mist with tumbling after the load is dry, this dryer helps prevent annoying static.
Wrinkle Shield Plus Option with Steam
Help keep wrinkles out of your clean clothes with intermittent tumbling and steam after the dryer cycle ends.