Appliance and Electronics Warranty
Get the Full Circle Protection Advantage
Your appliances and electronics are some of the hardest working items in your household. With today's advanced technology and complex features, the cost of repairs can almost equal the product's original purchase price.
Put your mind at ease and your appliances/electronics back to work with a warranty that offers tremendous coverage for very little investment - the Full Circle Appliance and Electronics Protection Plan.
Add a protection plan when you purchase your product online, over the phone or in-store.
100% Protection
The Brick guarantees that your product will perform to the manufacturer's specifications for the term of the Plan. At no additional cost to you, The Brick will make whatever adjustments or repairs are necessary for the product to perform just like it did the day you bought it.
Full Circle Appliance and Electronics Protection include:
Parts and Labour Costs
In-Home Service
Power Surge Protection
Product Replacement Guarantee
No Lemon Guarantee
Nationwide Service
Food Loss Coverage (up to $200 for fridges and $500 for freezers)
100% Peace of Mind
Should your product require repair, the Protection Plan pays for 100% of all repair costs. In all cases, the service will be performed by factory-trained service technicians. Learn more about requesting a repair.
No Lemons, Guaranteed
If your product requires more than three functional repairs during the warranty period, The Brick will replace it with a comparable product at no charge to you.
100% Value Back
The Brick's Value Back Guarantee is your money-back promise. If you invested in a Full Circle Protection Plan but did not make a claim during the term of your warranty, you are entitled to a merchandise credit at any Brick Group store in an amount equal to the price you paid for the plan (less the taxes).
The value of your Full Circle Protection Plan may be redeemed at any Brick Group store toward your next furniture or mattress purchase and/or related accessory.
Your redemption credit is available for up to 90 days after the expiration of the warranty period.
Redemption credits are only available if no claims were made during the warranty period.
You may use your credit to purchase furniture, mattress' or accessories. Redeem on a sale of $400 or more.
The redemption offer has no cash value, and amounts not redeemed within the 90-day period will be forfeited.
Redemption values cannot be combined with any other Full Circle credit, and cannot be applied to previous purchases.
If you have questions or concerns about redeeming the value of your Full Circle Protection Plan, please contact us.
Manufacturer warranties are only valid for the first year. The Brick's Protection Plus Plan features Canada's most comprehensive product coverage and is designed to protect you from unexpected repair and replacement costs over time. Take a look at the complete details, terms, and conditions of The Brick's King and State Protection Plus Plan.
Maytag 60 Day Money Back Guarantee
Our confidence in Maytag products, and in your complete satisfaction, is backed by a 60 day money back guarantee. This is available exclusively to Brick customers who purchase any Maytag appliance between January 1 and December 31, 2016. View the Money-Back claim form for full details.
As-Is Purchases
All as-is furniture, appliance, and electronics purchases carry the same warranty as new merchandise with the exception of existing defects and/or damage on the item (such as scratches, dents, or missing pieces), which will be noted on your invoice at the time of purchase. Extended warranties can also be purchased for as-is items, but will exclude coverage of existing defects. The Brick will only cover up to the purchase price of the item, not its original value.
Making a warranty claim
We hope your product won't need repair, but if it does The Brick has made requesting service as easy as possible.
Make a claim ›
Manufacturer warranty coverage ›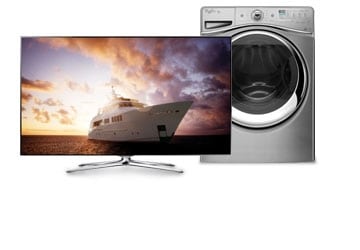 Protect Your Appliances and Electronics Today
Add a Full Circle Protection Plan when you purchase your product online, in-store or over the phone! Warranty prices are dependent on the value of the item purchased. You can add a Full Circle Protection Plan up to 30 days after your purchase; contact your store for full details. Policies can also be cancelled within 30 days of purchase.
Shop Electronics
Shop Appliances
Look for "Add a Warranty" when you checkout to include an extended warranty.