Thank You For Making A Difference!
Your contribution helps Canadian kids get better care closer to home.
To help kids across Canada, The Brick has raised:
$10,639,191

since 2014

$2,202,199.00

in 2022
Donations in 2021 supported:
10,259

research papers published

2,327,206

in-person visits

72,000+

sessions of art and pet therapies
Highlights of 2021
In 2021, The Brick extended its record as a deeply committed partner of children's hospital foundations across Canada. Rebounding from disruptions with new energy, Brick stores adopted successful new fundraising strategies – from an e-commerce giving tool to a popular cause marketing initiative focused on a Jeep grand prize.

Stores across Canada continued to grow established practices, including Brickley bear sales and the sponsorship of Champion children. These initiatives have allowed The Brick to work alongside Canada's 13 children's hospitals to truly go the distance for kids across Canada.

A new signature campaign – Buy More, Save More, Give More – had a strong beginning featuring tiered savings and donation opportunities. What's more, every sale of a small remote-controlled Jeep meant a donation for Children's Miracle Network (CMN) and a chance for customers to win a real Jeep!

The Brick doesn't stand still in its work on behalf of children's hospitals – it continues to innovate and optimize its fundraising approaches to enhance performance over time. In addition, leaders launched a new employee ambassador program and began to explore new training and engagement opportunities.
Nearly 5,000 children receive medical care every day
1 in 10 kids in North America is treated by Children's Miracle Network each year
257 surgeries are performed each day on children
Nearly 8,000 diagnostic imaging procedures are done on average each year
More than 3,000 researchers are working on diagnosing causes, developing treatments and finding cures for children's diseases
Children's Miracle Network
Children's Miracle Network is dedicated to saving and improving the lives of as many children as possible. With 13 Children's hospitals across Canada, CMN helps provide exceptional medical care with the latest in medical research.
Whether kids suffer from common childhood afflictions like asthma and broken bones, or fight larger challenges such as birth defects or cancer, the children's hospitals supported by CMN provide comfort, treatment and hope to millions of sick kids each year.
Not only does CMN help relieve the financial burden many Canadian families face, but the organization also gives kids and their families a home away from home during a distressing time.
When you donate to Children's Miracle Network, the money goes directly to your local children's hospital to fund critical treatments and services. In 2020, we were named the Children's Miracle Network Corporate Partner of the Year and proudly donated a whopping $1,465,632 to Canadian kids in need. Since our partnership with Children's Miracle Network began in 2014, The Brick has helped raise over $10.6 million for children's health in Canada.
The Brick always strives to support our community, which is why we pledged to donate a portion of the proceeds from our sales on July 6, 2019 to Children's Miracle Network – and we haven't looked back since! Inspired by this successful endeavor, we set aside dedicated time each year to donate proceeds towards this incredible charity.
The CMN Charity Day in 2019 was exciting for everyone; Brick locations from coast to coast set up tables, baked treats and blew up balloons. Our staff volunteered to decorate the stores and our corporate partners stepped up to help contribute funds. We spoke with each of our valued customers, telling them about the amazing children we've helped over the years thanks to Children's Miracle Network.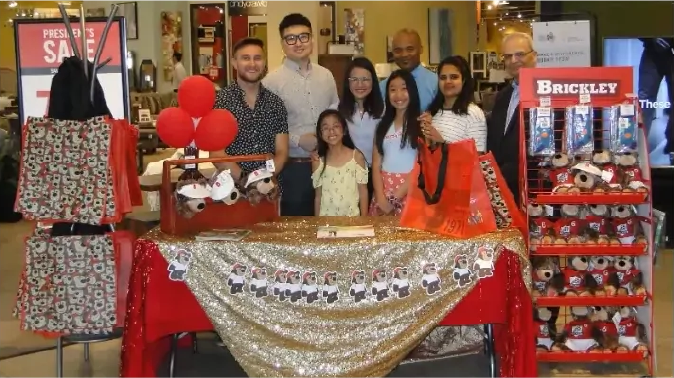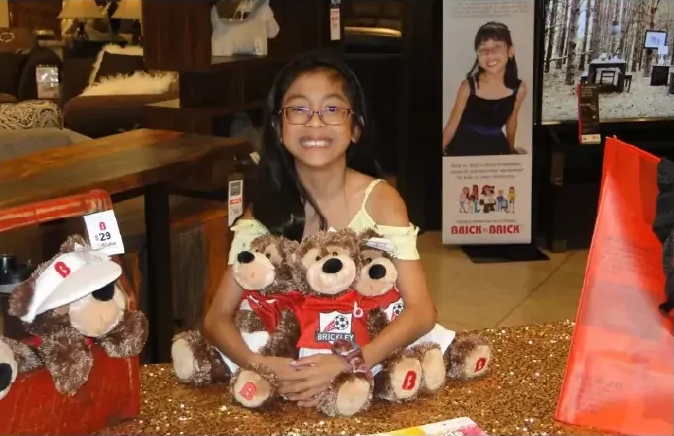 In Winnipeg, the Children's Hospital Foundation of Manitoba's Champion child Gianna dropped by to share a smile and her story with customers. Her fighting spirit and upbeat, cheery personality inspired everyone she met. We also had a special visit from our favorite charity mascot, Brickley Bear!
From Victoria to Halifax, The Brick works together to help fund cutting-edge research, build family-friendly recovery spaces and support the healthcare needs of every Canadian child.
At the end of this one-day blitz in 2019, we raised a total of:
$279,273
This donation would never have been possible without the kind souls and generous hearts of our customers and partners – we can't say thank you enough!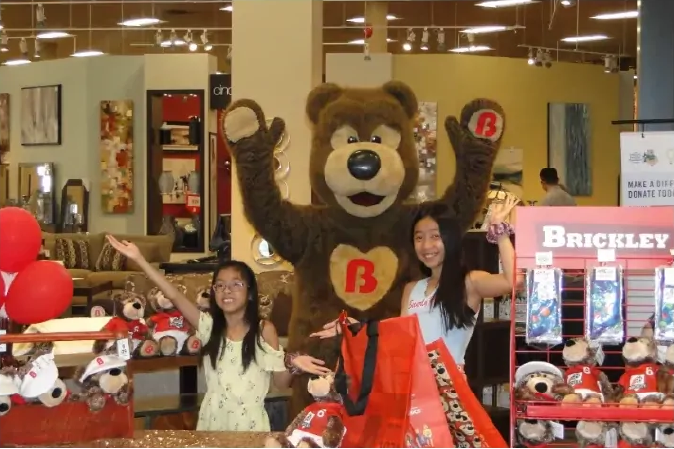 Abigale

Abigale is a funny, energetic and courageous little girl. Diagnosed with SR B-Cell Acute Lymphoblastic Leukemia at just five years old, Abigale has proved she is stronger than strong! Because of the great care she receives, she has been able to return to her favorite activities! such as singing, dancing, riding horses and playing with her friends and family!

NL

Janeway Children's Hospital Foundation

Nicko

Nicko is a smart, generous kid who loves all things outdoors. He was born with Spina Bifida and Hydrocephalus, and at two days old, he had his first surgery. Nicko has overcome many challenges, and he doesn't let anything hold him back; he loves hunting, music, and playing basketball. Nicko is dedicated to sharing his story and being a representative for his condition. His commitment to helping other kids makes him a true hero!

SK

Jim Pattison Children's Hospital Foundation
Cash

Cash is an active eleven-year-old who loves playing the drums and practicing karate. Cash was born 11 weeks early and spent three months in the NICU receiving treatment for heart and breathing issues. As Cash continued to grow, he gained his strength and started catching up to his peers. Now, he leads an active lifestyle and is doing very well.

ON

McMaster Children's Hospital Foundation

Harper

Harper is a girly girl who loves princesses and every Disney movie. She was born with a congenital heart defect and had her first appointment at SickKids at the age of three. Finally, in July 2022, a miracle happened, and Harper had transplant surgery for a new heart at the age of five. A week later, she was able to leave the hospital for the first time in over a year, and she got to really see Toronto - enjoying the Art Gallery and a shopping trip with her parents. Harper started school in September of 2022 - she is thriving and always shows a real tenacity for life!
Eloise

Eloise is a joyous, determined teenager who is very resilient. Eloise was born with a heart defect and had her first open heart surgery at six days old. She had three procedures before the age of four, and another in 2020 to adjust her pacemaker. As she grows, a heart transplant could be considered. Every year, Eloise proudly explains her condition and her scars to her classmates.

QC

Operation Infant Soleil

Matthew

Born prematurely at 32 weeks, Matthew and his twin brother Ben were admitted to IWK's NICU. Ben was soon discharged, but Matthew's kidneys weren't functioning, and he began dialysis to keep him alive. At 19 months, he was old enough to receive a kidney transplant from his father, Andy. Matthew had his second transplant in May of 2021 and now he's feeling the best he ever has. Matthew continues to visit IWK for regular check-ups, and he's back to enjoying gaming, swimming and playing with Ben.
Elijah

Elijah loves hockey, football, basketball, and hanging out with family and friends. Born early at 33 weeks, Elijah was diagnosed with a congenital heart defect where a valve in his heart was too narrow. With the help of donor-funded investments in research, Elijah was able to have a less-invasive catheter procedure which allowed him to get back to doing all the things he loves. While Elijah's heart will always need monitoring, he is doing great, playing sports he loves and living life to the fullest.

AB

Stollery Children's Hospital Foundation

Armin

Armin speaks four languages and has a passion for learning. In July 2020, Armin was diagnosed with Burkitt's Lymphoma and had to undergo six cycles of chemotherapy. This had a huge impact on his tight-knit family but they were thankful for the support from their local hospital. He has monthly check-ups at CHEO and is so happy to get back to playing soccer and basketball. Armin's dream is to travel the world and own a fancy car!
Keira

Keira is a remarkable, resilient kid who loves animals. When she was nine, Keira suffered a severe burn to her mid-body region which led to complications such as sepsis. After staying in the PICU for five days and receiving burn treatments, Keira was able to go home. Psychologists have helped Keira come to terms with this event and she feels empowered to share her story with others.

BC

BC Children's Hospital Foundation

Nyah

A healthy, active, soccer playing 10-year-old, Nyah's life changed drastically when she was diagnosed with Acute Lymphoblastic Leukemia in 2017 and had to undergo three years of treatment. After relapsing twice, Nyah underwent a bone marrow transplant and is now in remission. Now 15, she lives with side effects of her transplant and is still closely monitored by her team of specialists. Thanks to her lifesaving treatment, today Nyah is an avid golfer and gamer, and aspires to be an oncologist herself one day.

AB

Alberta Children's Hospital Foundation
Kshitij

Kshitij is a chatty tech-loving teenager who successfully built a desktop computer. At six years old, Kshitij was diagnosed with Duchenne Muscular Dystrophy, a rare disorder causing progressive muscle weakness throughout the body. Since there is no cure, Kshitij's family in India reached out to international clinical trials and received the best response from Children's Hospital in Ontario. Kshitij gets monthly IV infusions and weekly tests as part of the trial. The community Kshitij has built is cheering him on no matter where his medical journey takes him next!

ON

Children's Health Foundation

Pacey

Pacey is an unstoppable, friendly kid who loves hockey, and recently scored four goals in one game. Since 2017, Pacey has frequently visited the hospital for intestinal failure. After five years of testing and surgeries, including one to remove his colon, the cause is still unclear. During hospital stays, Pacey waves to everyone who walks by, and he plays pranks on his surgeons before procedures. Pacey's family is grateful for their local children's hospital's support in finding answers and they are optimistic about his future.

MB

The Children's Hospital Foundation of Manitoba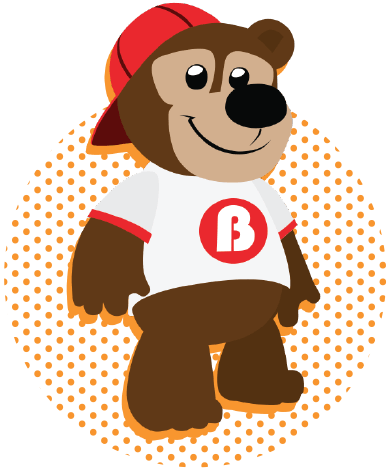 Looking for a keepsake that also gives back?
The Brick donates the proceeds raised from the purchase of each Brickley Bear to Children's Miracle Network.
Visit your local Brick store to get yours today!
Put your money where the miracles are
When you donate to Children's Miracle Network, the money goes directly to your local children's hospital to fund critical treatments and services.