WHY CHOOSE SERTA
Superior Quality, Designed for Comfort
Hate Overheating? Us too Vous n'aimez pas avoir trop chaud la nuit? Nous aussi

We've designed mattresses to keep even the warmest sleepers cool. Serta's cooling technologies help reduce heat from the body. The result? Cool, comfortable sleep. Nous avons conçu un matelas pour aider à garder au frais les dormeurs qui ont le plus chaud. Les technologies refroidissantes de Serta aident à réduire la chaleur du corps. Vous profitez donc d'un sommeil frais et confortable.

No More Tossing & Turning Plus d'agitation nocturne

Featuring premium foams in our mattresses that provides even better pressure-relieving comfort and support. Comprenant des mousses de première qualité dans nos matelas pour mieux soulager les points de tension et offrir un meilleur confort et soutien.

Your Back Will Thank You Tomorrow Votre dos vous remerciera demain

Serta's advanced support system provides you full body comfort and support all night and ensuring you'll wake up refreshed. Le système de soutien avancé de Serta fournit un confort et un soutien corporel complet toute la nuit pour que vous vous réveilliez revigoré.

10 Year Limited Warranty Garantie limitée de 10 ans

You should be able to rely on the quality of your rest night after night. That's why every Serta mattress is backed by Serta's 10-year limited warranty. Vous devriez pouvoir compter sur la qualité de votre sommeil à chaque soir. C'est pourquoi chaque matelas Serta est couvert par la garantie limitée de 10 ans de Serta.

Designed & Assembled in Canada Conçus & assemblés au Canada

All Serta mattresses are designed and assembled in Canada Tous les matelas Serta sont conçus et assemblés au Canada.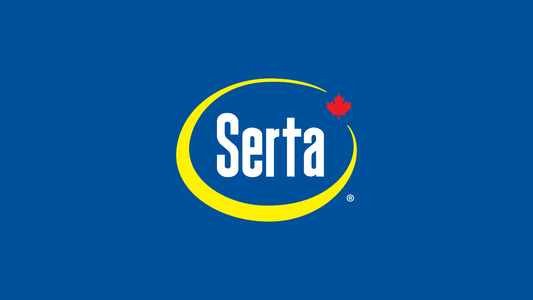 90 Years of Comfort 90 ans de confort
A history built on the belief that comfort is everything.
We believe that when you start mattress shopping, you should feel supported and relaxed. That's why Serta has been advancing the art of comfort for 90 years. Une histoire qui s'appuie sur la croyance que le confort est primordial.
Nous croyons que quand vous commencez à magasiner votre matelas, vous devriez vous sentir soutenu et détendu. C'est pourquoi Serta fait progresser l'art du confort depuis 90 ans.