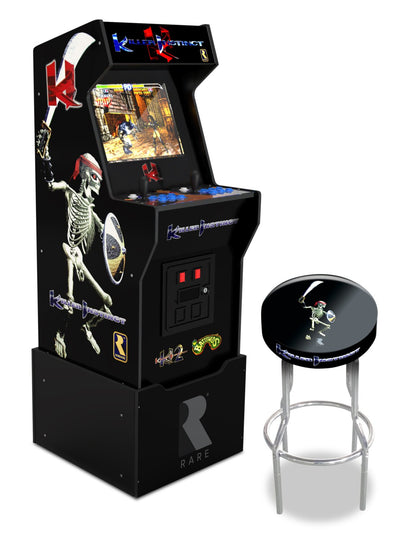 Arcade1Up Killer Instinct™ Arcade Cabinet with Riser
SKU: KILLRINS VSN: KIL-U- 012252
Dimensions
Width: 22.5" (57.2 cm) Height: 60.75" (154.3 cm) Depth: 18.75" (47.6 cm)
Killer Instinct. Fans loved it; critics loved it. For many retrogamer enthusiasts it's a definitive title of the mid-nineties, with unforgettable gameplay, soundtrack and 3D-rendered graphics. Relive that video game era with this stop-you-in-your-tracks arcade cabinet that also includes Killer Instinct 2™, Battletoads™ arcade version, plus Battletoads in both 8-bit and 16-bit forms. Play with up to two players in-person, or take on opponents from anywhere in the world with Live Wi-Fi.Games Included: Killer Instinct Killer Instinct 2 Battletoads Arcade Version Battletoads 8-bit Battletoads 16-bit
Unique Features
Wi-Fi Enabled for Online Play
Light-Up Marquee
Matching Stool and Riser Included
Light-Up Deck Protector
Moulded Coin Door
Five Games Included
17" Colour LCD screen
Adjustable Volume
General Details

VSN

KIL-U- 012252

UPC/GTIN

195570001943

Model Year

2021

This Product Includes

Arcade Cabinet
Matching Riser
Arcade Stool

Connectivity Details

Wi-Fi

Yes, for Online Play

Additional Details

Safety Details

Clear Deck Protector
Anti-Tip Over Strap

Additional Information

Arcade1Up machines stand at just under four feet tall and can be used without the riser (perfect for kids or seated gameplay) or easily placed on top to give the game an extra foot of height. Each gorgeous cabinet features a different classic arcade game. Button-mash your way down memory lane with immersive full-colour, high-resolution display and sound. True to form, these cabinets also mimic the classic arcade joystick and button configuration you remember.