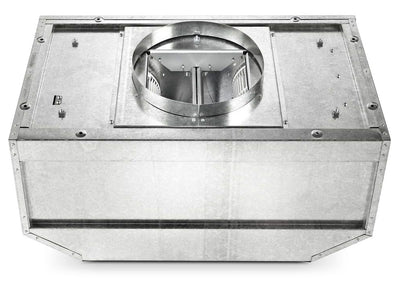 Whirlpool 1,200 CFM In-Line Blower – UXI1200DYS
SKU: UXI1200DS VSN: UXI1200DYS
Dimensions
Width: 21" (53.3 cm) Height: 12" (30.5 cm) Depth: 15" (38.1 cm)
Keep your kitchen well-ventilated with this Whirlpool 1,200 cubic-feet-per-minute (CFM) in-line blower. Suitable for remote installation, this blower gives you maximum flexibility and is compatible with commercial hood liners and range hoods. The in-line blower operates at three different speeds to suit your needs.
Key Features:
1,200 CFM Internal Blower
Three Speed Levels
10-Inch Round Duct
1,200 CFM Internal Blower
The powerful internal blower helps to ventilate kitchens to eliminate grease, smoke and odours.
Three Speed Levels
Adjustable speed functionality lets you customize the operation of the blower to suit your ventilation needs.
10-Inch Round Duct
The duct size is an industry standard and will work with many existing setups for ease of installation.
Full Features and Specifications
Configuration and Overview:
Hood Type: In-Line Blower
Venting Type: Exterior
Fan CFM: 1,200
Controls: